Newsletter
Just as our bodies have many parts and each part has a special function, so it is with Christ's body. We are many parts of one body, and we all belong to each other.
Romans 12:4-5 (NLT)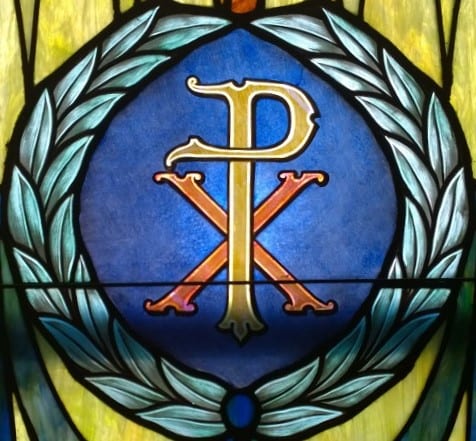 CALVARY BAPTIST CHURCH
APRIL 2018 NEWSLETTER
From Pastor's Desk:
        What is God doing?  This is the question that is on my mind.  I have a sense that God is doing something.  Which is funny in itself because God is always at work.  So maybe it is better to say that I feel like my eyes are being opened to what God is already doing.  Easter is a big celebration for us as Christians.  It should be of course because it is the day that we celebrate the resurrection of Jesus Christ.  There is no bigger holiday for Christians.  Without the resurrection all the rest of what we do doesn't matter.  Just take a quick stroll over to 1 Corinthians 15.  No resurrection, no hope, and we are to be pitied.  I do believe in the resurrection.  I believe it happened and it is fact, the resurrection does not need me to believe it for it to be true, it is true.  It is astounding, and wonderful, and powerful, and at times can leave us trembling. 
        After Jesus' resurrection he spent time appearing to the disciples and to others and continued to teach them.  He explained to them the scriptures that had been written telling about all of what had happened.  He explained to them what it was he had done.  Dying to be the sacrifice for sins.  Living to give new life in Him.  Healing our relationship to the Father, and he told them what, or who would come next. 
        The disciples in Acts chapter one were still a little confused and they asked him "Lord are you at this time going to restore the kingdom to Israel?"  It is a reasonable question when you think about it.  They must have been thinking; well Jesus what more can you do to prove your power.  People think they killed you, they think they can kill you and here you are.  Is this it.  Is this the time when the fulfillment of everything happens.  They are still waiting for a restoration, they are still waiting for the kingdom that they think is coming.  They don't realize that Jesus has a mission from God for them.
        Jesus tells them not to worry about the coming time of the restoration of the kingdom.  That is for the father to know, he tells them.  He says to them, but you will have power come upon you in the Holy Spirit and you will be my witnesses, to Jerusalem, Judea, Samaria and to the ends of the Earth.  The resurrection of Jesus was not the end of his ministry.  It was the beginning. 
        The resurrection was the fulfillment of God's promise of salvation.  Jesus has made a way, he has made a way to a healed relationship with God.  In my estimation it is the greatest work that he has ever done.  The miracles that Jesus performed of healing and driving out demons and feeding great crowds and walking on water and even raising Lazarus from the dead pale in comparison with the work of giving new life to those who come to him in faith as their savior.  And that work was just beginning after the resurrection.  You will be my witnesses.
        What Jesus did on the cross has legal implications.  We stand condemned because of our deeds.  Jesus took that condemnation upon himself and with it the punishment for our sins as well.  This was his death.  But God in his power raised him to life again, the price had been paid, but how could death hold the living God?  Our legal, ethical, moral, sinful debt has been paid.  Legal cases need witnesses.  In the Old Testament a strong case is made through the witnesses.  Those who know the power of what God has done in their lives are empowered by the Holy Spirit, empowered by God to bear witness to the work of what God has done.  This is at the heart of what we do. 
        We do not exist as a gathered body of believers to call people to join us.  We exist as God's people to call people to believe in the one who died for them.  We exist to call people to Jesus.  All of our lives work out in that.  Have we come to Jesus?  Having done so how are we following him?  What is God doing?  He is doing what he has always been doing, saving sinners.
A new class will be starting April 8th, Together: what it means to be a part of Church.  Don't think of it as a new members class!  This is designed to get us to rethink and examine what it means to be a part of the Church, what it means to be a fellowship of believers.  The word Church carries a lot of meaning, we are going to unpack and rethink what we mean when we say Church member.  Our two books will be "I am a Church Member" by Thom S. Rainer, and "Basic Christianity" by John Stott.  This will meet during the Sunday School hour formally.  Lunch will be available and people are invited to continue the discussion over lunch with family and children welcome. 
GREETERS-
APRIL
1 – Jim Lapine & Denis Bickford
8 – Judy & Art Bryant 
15 – Tina & Barry Vittum
22 – Becky Bushey & Nichole Downing
29 – Matt Downing & Eric Johnson
D & E
NURSERY SCHEDULE –
APRIL
1 – Kathy & Jim Lapine
8 – Sarah Gramling & Tina Vittum
15 – Kathy Lapine & Mary Lou Hurd (Church)
        Cathy & Bryce Honeywell (Sunday School)
22 – Debbie Young & Faith Barr
29 – Nichole Downing & Tina Vittum
MAY
6 – Dawn Crary & Sarah Gramlin
13 – Kathy Lapine & Faith Barr
20 – Debbie Young & Nichole Downing 
27 – Kathy Lapine & Mary Lou Hurd
CBC will be hosting "GAME ON!" an exciting week of Vacation Bible School from July 23-July 27. VBS will take place during the morning hours and will again, be done in conjunction with SERVE VT the traveling ministry group from Pennsylvania that assisted us last year.  But more volunteers are needed!  Please contact Nichole Downing if you are interested in volunteering.  Please consider what your gift is- hospitality, registration, set up and props, teaching, arts and crafts and more. 
It is time to think about Summer Camping!  A week at camp makes great memories and can be pivotal in the spiritual life of a child.  The Discipleship and Education Team will be working to have information available in the next few weeks for several Christian camps in the area such as Word of Life, Rumney, Bethany Birches and more!  On Thursday April 12th at Union Street School from 5-6:30 there will be a camp night and a rep from Bethany Birches will be there if you would like to learn more about that specific camp.  Camp Scholarships are available to CBC children and youth.  The scholarship form can be printed off our website   https://calvarylovesspringfield.com/scholarship-form/  or if you need a hard copy please contact a member of the Discipleship and Education Team (Nichole Downing, Sarah Gramling, Emily Fowler, Susan Whittemore or Meagan Dion or the Pastor.  Forms should also be handed in to these same folks. 
April Discipleship and Education Team Meeting: Thursday April 26th, 7:15pm at church
FELLOWSHIP & CARING
Please consider signing up for coffee time.  The sign up sheet is downstairs in the vestry.  Thank you.
OUTREACH –
America for Christ Offering – We collected $381.00 for this offering.  Thanks to all who supported this important offering.
Easter Fest – Our Easter Event on 3/31 was a great success.  Our local Churches worked together to put this event on.  The goal was to show our community that we care about them and to celebrate the Risen Lord!  A big thank you to all that supported this event. 
WOMEN
Women's Fellowship, Tuesday April 17th from 6-8 at church.  Dinner will be pot luck.  There will be opportunities for sharing your vision posters that were created at our February meeting and how you used the item you received at that same meeting to minister to someone. Please come even if you were not present at the February meeting. 
ABW Southwest Meeting in Randolph on April 14th at 11:30AM, come and hear Rev. Fela Barrueto talk about her work. Lunch will be served by donation.  See Mary Lou Hurd if you are interested.
True Beauty Women's Retreat – April 27 – 29, 2018.  Monadnock Christian Ministries.  Gail Cooper with Comedian Rhonda Corey.
MEN
4-2 Men's night 6:00(meal) 7:00(Music/Message
Men's breakfast on Saturday, April 14th at the Congreational Church at 8AM
COMMUNITY EVENTS
Community Chorus Concerts will be Friday, April 27 in Unity, NH at 7:00 at the school. Saturday, April 28 in Grafton at the White Church, at 7:00 PM.    Sunday in Springfield at the Congregational Church at 3:00 P.M. All are welcome offering by donation.
CALENDAR
4/01 – Easter Sunrise Service – 6:30 AM
4/01 – Easter Breakfast – 7:30 AM
4/01 – Easter Service – 9:30 AM
4/01 – SHRC – 2:30 PM
4/02 – Men's Night – 6 PM
4/08 – Together Class starts during the SS hour
4/10 – Ministry Board – 6:45 PM
4/14 – Men's Breakfast – 8 AM – Congo Church
4/14 – ABW Southwest Mtg. – Randolph – 11:30 AM
4/17 – Women's Fellowship – 6 PM
4/18 – Cribbage and Pie – 7 PM
4/22 – SHRC – 2:30 PM
4/24 – Ministry Board Prayer – 7 PM
4/26 – Women's Breakfast – 7:45 AM
4/26 – D & E Mtg. – 7:15 PM
4/27 – 4/29 – True Beauty Women's Retreat
BIRTHDAYS AND ANNIVERSARIES 
4/05 – Mike Matheson
4/06 – Deb & Ron Young
4/08 – Meagan Dion
4/15 – Jermaine Anders
4/26 – George Adnams
4/27 – Jim & Kathy Lapine
4/29 – Barry Vittum
New Address:
George Adnams
Kirkwood Manor
2590 TX-337 Loop
New Braunfels, TX 78130
"But thanks be to God, who gives us the victory through our Lord Jesus Christ.  Therefore, my beloved brethren, be steadfast, immovable, always abounding in the work of the Lord, knowing that your labor is not in vain in the Lord."  I Corinthians 15: 57 & 58